A COMPLETE SOLUTION TO BIOFOULING CONTROL
Only H2O offers a complete solution to Biofouling control, combining the most effective dosing recommendations with turnkey new system supply, retrofit, or refurbishment of existing dosing and biocide generating equipment including sodium hypochlorite generators.
We design and deliver complete, worry-free biofouling control solutions that are easy to use, customized to your specifications, and meet all government regulations in respect to discharge limits. With an experienced, diverse team and a service network that spans the globe, we're clearly confident in the biofouling products and services we provide.
BIOFOULING CONTROL
Biofouling, or biological fouling, is the accumulation of microorganisms, algae, or animals on wetted surfaces. The conditions inside a cooling water system are ideal for allowing biofouling organisms to settle and grow. Broadly speaking, the potential effects of marine growth on the facility are:
Losses in plant efficiency
Mechanical damage
Problems with the cooling circuits integrity
H2O has assembled a diverse and experienced team of engineers and biologists to deliver the following services.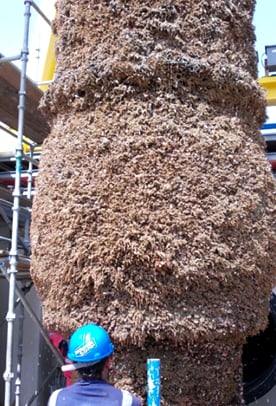 The electrochlorination systems designed by H2O's PEPCON division are fully automated units manufactured to comply with your unique specifications, applications, and globally recognized standards.
Electrochlorination is the process of producing a non-hazardous chlorine equivalent by the electrolysis of a brine/seawater solution to form a sodium hypochlorite solution. Sodium hypochlorite is an industry-standard oxidizing agent for an extensive list of applications, from marine biofouling control to potable water disinfection.