The Commander System is a water quality monitoring and re-mineralization system for on-site stored potable water. It's like having a team of water quality experts on duty 24/7.
Our advanced system monitors critical parameters such as free chlorine, pH, total dissolved solids levels, and water temperature in potable water storage tanks, in order to identify and correct the conditions that lead to common problems seen by many potable water systems including:
Plumbing system

corrosion (orange water)

Loss of residual chlorine resulting in bacteria and algae growth

Bad taste and odor

Nitrification and excessive trihalomethane (THM) levels

Thermal stratification
The Commander System offers peace of mind when it comes to stored water safety, while preventing health hazards to personnel and guarding against violations pertaining to the EPA Safe Drinking Water Act and other government regulation violations.
The H2O CMDR System is designed to serve four primary functions.
Features & Benefits:
Monitors free chlorine, pH, total dissolved solids and water temperature in potable water storage tank
Continuous circulation of potable water storage tank to evenly distribute disinfectant and prevent stagnation
Automatic adjustment of chlorine injection rates to prevent under- and over-chlorination as required by government regulations
On-skid chlorine storage tank capable of mixing and maintaining proper solution strength
Integral filtration system for removal of sediments and suspended iron
Maintains neutral pH and water hardness to mitigate corrosion
Integral ortho-phosphate injection system for advanced corrosion control in tank and plumbing system
Watch Our Video on the Commander System
Offshore platforms serving more than 25 persons at least 6 months of the year are considered municipal water supplies by many government agencies. H2O's Water without the Risks program with our NoRisk Lease and NoRisk Water Safety Plan allows oil and gas operators to ensure the potable water they provide their employees is safe. Like a municipal system you only pay for what you use.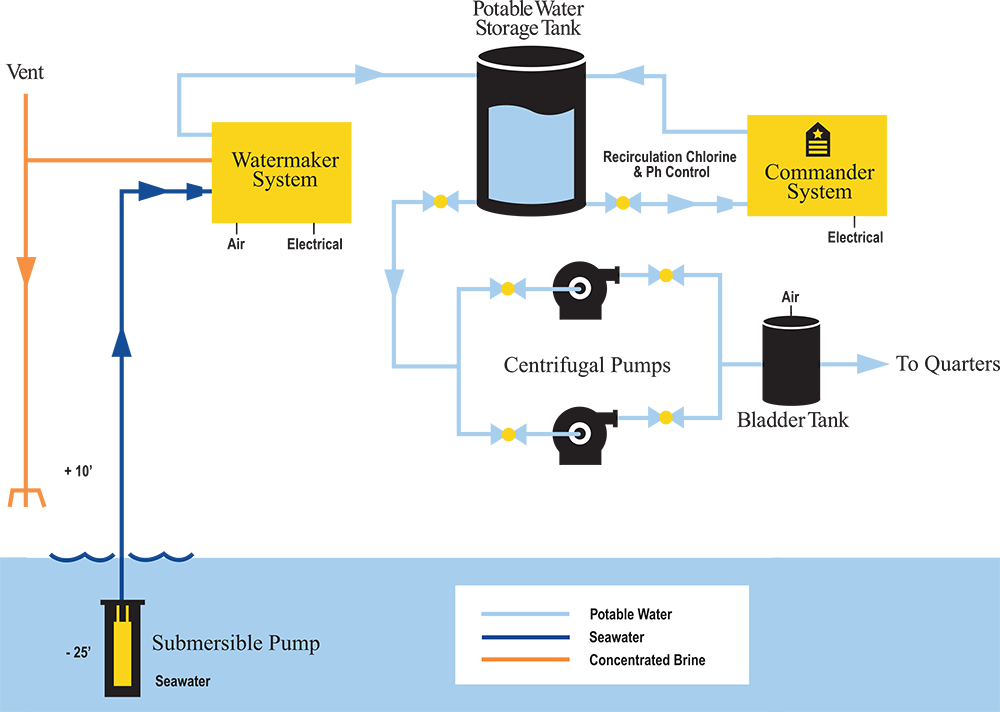 Contact Us
Want more information on the products and services we provide around the world? Fill out our contact sheet & one of our experts will be in touch to discuss your needs.
Product Information
For more information about our products and services visit our resources section.