High purity water also called deionized water, demineralized water, distilled water and ultrapure water is used for many purposes in the offshore oil and gas industry. In essence this is water that has been highly filtered to remove all suspended solids and then further treated to remove dissolved solids like calcium, magnesium, chlorides, sodium, silica and any other impurities that could cause problems in a process.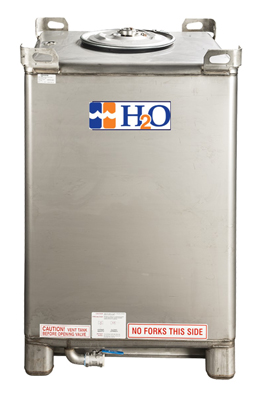 Common Uses:
Gas turbine cleaning (spot free)
Amine Makeup
BOP Test Fluids
Heat Medium Makeup
Prepare chemical solutions and mixtures
Filling batteries
Dilution of antifreeze and other chemicals
Bulk High Purity Water Delivery
Bulk deionized water is available from our warehouse in 5 gallon jugs and 55 gallon drums.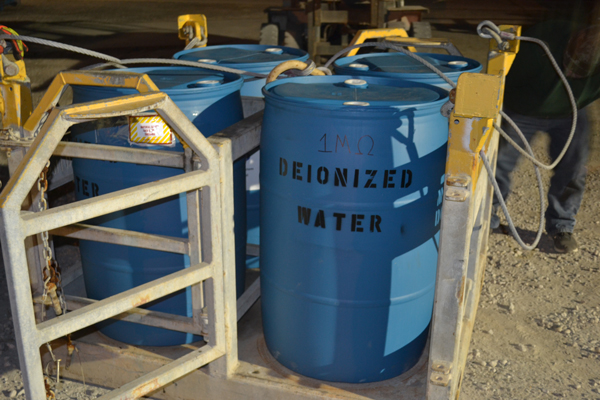 We can also supply demineralized water in 350, 550 and 793 gallon Stainless Steel IBC tanks.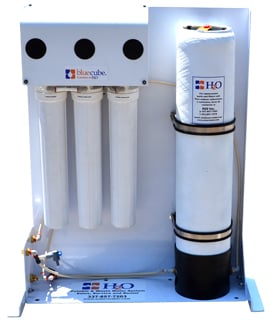 All water is tested using calibrated conductivity analyzers and can be supplied in 1.0 and 10 mega-ohm qualities (1.0-0.1 micromho)
Large Volumes
For large volume jobs like filling of heat media tanks, pipeline testing or fire sprinkler system testing we can offer Desal to DI services where we can make high purity water on site in unlimited quantities directly from the ocean or a well.
Continuous Needs
For continuous needs we can offer an onsite RO+Demin system in sizes from 500 gallons per day and up.
Our CDI+ROP System shown below is perfect for making high purity water on site in quantities up to 1,000 gallons per day and qualities up to 18 megaohm. This system is perfect for turbine wash water or chemical dilution in injection systems.