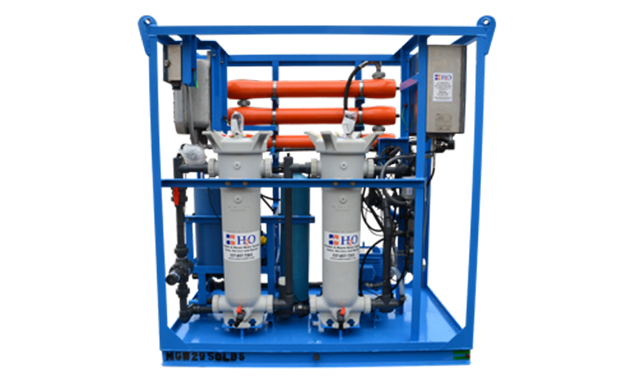 Marine watermakers provide reliable fresh water and, in some circumstances, potable water for your operation. Since they support your operations with such crucial functionality, marine watermakers are an important investment. If you select the right one, you can enjoy its benefits for decades.
Selecting the wrong one can lead to confusion, demanding maintenance procedures, and the eventual need to purchase another watermaker sooner than you would like.
When people cut corners to save on costs, such as the focusing only on initial cost of acquiring a marine watermaker, for example, they can see increased operational expenses instead of extended savings.
Fortunately, if you select the right watermaker system, you can expect long-term function.
Things to Consider When Selecting Your Watermaker
The right marine watermaker for you will depend a lot on how you plan to use your unit. Let's take a look at the individual considerations that could drive your purchase:
Prefiltration Needs and Silt Tolerance
Not all feed waters are the same. Your filtration processes can change as needed. If you're working with clear blue seawater, basic filtration will be fine. For green or brown water with high levels of silt, you'll find it's more cost-effective to add prefiltration stages to reduce ongoing operational costs.
Inlet Conditions
You will need to ensure that the water pressure to your marine watermaker is constant. This could require a pressure-regulating valve or a boost pump to optimize inlet pressures.
The Intended Use of the Output Water
Does your water need to be potable? If you're planning on using it in the galley or for crew use (even for showers or handwashing), it must be. You'll require additional treatment steps to ensure the water is safe for the crew and your piping systems.
Electrical Considerations
Think about whether your marine watermaker will consistently operate in hazardous locations or under tenuous conditions like high temperatures in an engine room. You'll need to have a system designed to operate in those conditions for safety and reliability
Weight Limits and Square Footage for Installation
You'll need to be able to fit your unit in the available space (and under the weight constraints) of your vessel. If you don't have enough room for a single skid, it may be worth considering a modular option for more flexibility.
Type of Media Filters Needed
The media filters your marine watermaker uses should be sized based on the turbidity (or the amount of silt present) of the feed water. The frequency with which you operate your unit can also influence the filter you'll need. Different filters work better for intermittent and continuous operation.
Durability Considerations
Seawater is highly corrosive! Depending on the material and construction of the watermaker you pick, you may be able to enjoy protective benefits or heightened longevity. For example, seawater will likely corrode 300 grade stainless steel, and brass and bronze will also have limited lifetimes in seawater RO service. Super duplex, titanium and monel materials are more costly upfront but will result in longer life and reduce overall costs on some components.
Desired Levels of Service and Support
Marine watermakers are integral for your vessel's operation–and they may require maintenance from time to time. Protect your unit and your peace of mind by purchasing your watermaker from a company that's ready to help. From assistance with quality documentation to ongoing, timely service options, knowing an expert is nearby is an invaluable aspect of the perfect watermaker system.
H2O, LLC is Ready to Help You Select an Efficient, Effective Marine Watermaker
To pick a watermaker that will work well and last for decades, take an in-depth look at your environment, processes, and plans. That information will make it crystal clear which watermaker system is best geared for you, your vessel, and your crew.
However, you've got to have in-depth knowledge of watermakers to understand the options and make choices that result in the best value. At H2O, LLC, we make it simple: We have that expertise and a lineup of watermakers to recommend. We manufacture a full line of watermakers to meet all common oil and gas applications, including drilling, commercial marine, and production platforms. Whether you need a high-quality unit or reliable information to help you make your choice, H2O is ready to assist. Call our friendly, knowledgeable team today at +1-337-857-7203, or contact us online for all of your watermaker needs.